Dear Double-bladed lightsaber:



(Benevolent Venerable Exemplar's Lightsaberstaff)
YOU ARE SO BEAUTIFUL. WHY ARE YOU DOUBLE-BLADED? WE WOULD LOOK SO FANCY TOGETHER.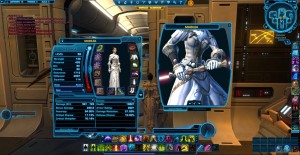 LOOK HOW FANCY.
LOOK HOW BEAUTIFUL YOU COULD BE SINGLE-BLADED:


OR


(horrible edits by me)
…why can't there be single bladed versions of double-bladed lightsabers T~T and vice versa. Whhhhhy. someone suggest this. please. please please please.
oh, and I drew up a horrible doodle from memory of that circlet hat I saw on a Sage that I still haven't figured out what it was (ONE DAY I HOPE T~T)–the sides may have been more like chains over a band… but blah 🙁 :


edit: oh and note to self, get a K-313 Riot Needler for Miisha.