Okay, so I was browsing around and had this pointed out to me: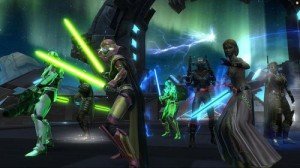 (Screenshot credit to scifigamers)
That definitely looks like a Black-Cyan crystal to me. Since there are two color options available through EC (Black-Orange and Black-Purple), I wonder (if the Black-Cyan is true of course) if there will be another crystal and if so, what?
The crystals without a black core version are, besides the previously mentioned Cyan, Magenta and White. They are the only ones left without a black version. Heck, the White isn't even out at all. Maybe, for all we know, it could be Black-Cyan and White. However, I believe White was mentioned to be gotten in a similar way as Magenta and still a far way off, so I'd probably put a Black-Magenta over Black-White/Normal White. It'd be neat though, wouldn't it?
Besides that, the pink and gold armor that sentinel is wearing… I wish I knew what it was 🙁 If you recognize it, let me know please?