First of all, SO MUCH AWESOME. The leap of faith and omg T~T so cool. I went ahead and recorded the Imperial version. I think the Republic one was a little better due to not having the obvious ramp. The lack of a barrier has been in a few places (even with nothing to do) so it seemed more surprising there over the ramp off on the Imperial side.
We may try and do it on some of our other characters (as much as it will suck to get through some areas) and if we do get Miisha up there, I'll probably record her going through it. And maybe Cellina too. You can see just how much I suck at their classes 😛
Regardless, I had lots of fun. I kind of wonder if anything else will happen considering this was supposed to be to win favor with the Gree. Makes me wonder if something may happen this weekend that wasn't elaborated on, but who knows. We ended up giving to SIS/Imperials for each our characters–both with the reason of hoping to get some of the Gree technology for their side (or in Amidaia's case, herself) over letting the Chevin's do who knows what being a Crime Syndicate and all. Regardless, SO HAPPY FOR THE HAGNOFFARL! so cute.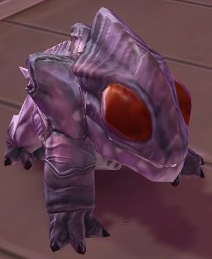 …remind me to take a better picture later since it's white and not purple.
Been debating on getting Cellina a bow-sniper thingy as she uses a Blaster Rifle….but they're so ugly in comparison to the Sniper Rifles 🙁 If I got her one, maybe the Light Bowcaster or Kashyyk's Legacy? Regardless, I already gave my boyfriend all my tokens so.
Besides that, there is another trailer up for upcoming stuff. Very excited~ Still debating on what I could have as a Cathar though… I honestly don't have a clue. Maybe I'll just hope I dislike the options.
Anyway, going back to event talk…my boyfriend wants close to 1,000 of them for everything he wants >_> So we're probably going to try and get Miisha and his trooper up and also go box hunting later…may record the leveling (and my sucky playing of her) and box hunting later.
Edit: Better picture: