Today…has not been a very good day. In fact, when they least sucky part of the day was dailies, that kind of says it all.
I'm still pretty frustrated with my stupid armor. And the fact that I'm not being listened to. Because, you know, obviously leveling up with this class means nothing. I either have to wear it or I will not be able to do Hard Mode Explosive Conflict. That is stupid for something that has no stat benefits. Quoting the guide mentioned earlier in another quote of theirs:
In terms of set bonuses, the 2-piece should be considered compulsory (a reduction on the cooldown of our bread-and-butter ability is invaluable), while the 4-piece is optional. The extra 50 force points provides a small buffer, and also makes Noble Sacrifice regain slightly more force (since it returns a fixed percentage of your health pool), but if you manage your resources effectively you should have no issues without it.
And it's true. It's just…it doesn't help. Even one of our guild mates who healed while he leveled said it makes no difference. Because it doesn't. But gee, what do I know? I'd love to switch back. So much. But I don't want to hear it. I don't want to be yelled at. Not to mention I'm sure who they're place me with…and god they annoy me. And I can't afford to anyway. He may have paid for me to switch, but who's stuck paying to switch back to what I didn't want to switch from to begin with? Me. 🙁
Anyway, I had gotten on to do some comparisons and things while working from home today, but was dragged off to dailies (Told I could just throw down heals and follow along) so I shrugged and gave in. We ended up stopping after Belsavis though to help out friends. They went to help out a guildmate with the +10 Fleet Datacron and I went to help a friend with LI HM as the healer with him quit…unfortunately, the DPS with him got tired of waiting (it wasn't even long) and also quit. I managed to bring in 2 DPS and it just…it was horrible. I can't even pinpoint what went wrong. The DPS was pretty low, which was odd as I know both are capable and have seen them do it together, the tank was just…kind of awkward? I guess? My heals seemed useless. And I got grenaded several times which didn't help. I just… I can't even… I honestly don't know. I'm just going to say this outfit is cursed.
We eventually had to go–the two DPS were just tired of losing (and I can't blame them. I honestly don't know what went wrong though) and I had a raid to do go…which ended up being canceled due to us missing a healer. So, I was told to go join the other Ops group to help them finish up EC (they just had Kephess left) and they'd save the rest of them to help on Sunday.
…now, I like most of the other raid team, but why wasn't I asked? I was just told what to do. I still had to work, my boyfriend wanted to do some stuff with me when he heard, but I was sent off. I really don't care that it was half done either, but my issue is nobody even asked.
Anyway, it took us 4 tries as I got berated by one specific tank for not healing well enough (along with the other healer, but I'm sure it was more towards me–not the first time). Regardless, we did get it done. After, they apparently wanted to drag me on a KP HM–but not only is it not my usual group (though, I would've loved to help out most of them) and I didn't know what my group was doing, I still had work to do and my boyfriend had wanted to play with me and once again, I wasn't asked, it was just pretty much "you're coming, right?". I just…seriously, ask. I can't stress that enough. And I really didn't have time today. I only got 1/3 of the work done (though, I should be able to get the rest done today) due to constant streams of "It'll only take a few minutes, it's just *insertwhateverhere*" and fdl;sdgkgd;lsdl;sd I just…seriously. Too many feelings and frustrations.
In a note of happy today, however, I received these wonderful WIPs that were drawn by Sakonma. I will be using one (possibly both–but at least one) for when I work on the new banner: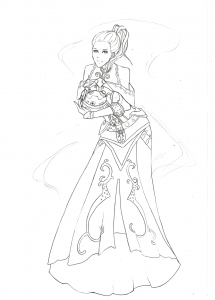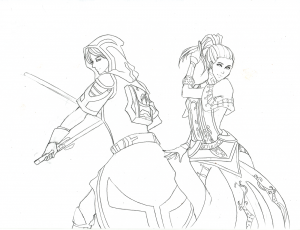 I can't wait to see them colored.
Besides that, Codex Progress is now under "When it comes to Collecting…" and also a new section under "My Characters".
Also, been having lots of creativity strikes lately–unfortunately, I can't draw so four of them won't happen, but I may write a bit. So if you see any password protected entries…that's why. You have to suffer enough when you read this stuff–I won't make you suffer more by reading my fanfiction.