Yes. That is what you think it is. I finally got a Midnight Rakling! The tank we were with was kind of iffy (lost aggro a lot, barely listened to questions and seemed confused despite supposedly having done this before–also didn't bring the final boss in his final phase to the door and now I know why it's so important to) and despite my really wanting the pet, let me know that he wanted it because a bunch of his guildmates had it 😐
again, seriously, just… if you don't truly, really, want something and there's someone there who does, just…don't roll on it unless they say it's okay. For example, I'm not a huge mount person so unless I'm told to roll, I usually won't unless the people who REALLY want it already have theirs. I'd like to collect all the mounts on day because I like collecting but that's it…with the exception of like…animal mounts. Those are on pet level of want.
Thankfully (and obviously), I did manage to win by over 50 points!: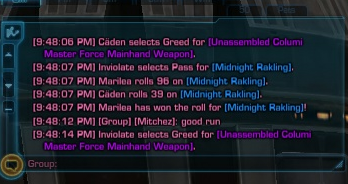 But yes, finally, a Midnight Rakling is mine: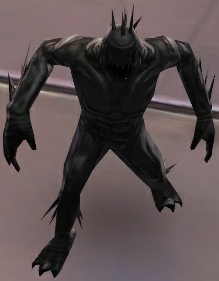 Which means I only have the M0-GUL Thrall Droid left for pets I KNOW how to get. Obviously, there is still the Wonderous/Wondrous Egg aka Orochick, but it has yet to be proven to come from Explosive Conflict so there really is no confirmation on how to get it–just that it's in the game. Obviously, that doesn't mean I'll give up though…but it's not like I can do EC anymore than we already are (though, if we start Hard Mode next week, maybe we can do it twice a week for both). Regardless, since the M0-GUL Thrall Droid is the pet I have been missing the longest (2 big patches now!), it really is my priority so if I had to pick a raid… I'd pick Karagga's Palace/Hutt Hospitality. Not to mention, at least it's confirmed from that while for all we know, Orochick may not come from Explosive Conflict at all and it may just be a red herring. And of course, while it's likely the other 4 1.3 pets (2 more Akk Dogs and 2 more Lobels) are in, there still is no proof yet so… but I definitely would like to look into those too.
Anyway, I'm just super excited. So close to being done! And I never have to do Lost Island again! …except, you know, if someone really needs my help.