There is always something awkward when you want to try and avoid your main character as to not run into someone :/
As it is, I will most likely be filling in for NM EC this upcoming Tuesday evening which just stresses me more EDIT: Looks like it'll be HM EC! Still makes me nervous though 🙁 Note to self: need all 27 armorings except for legs.
.___.
Edit: Eeeee T~T OMGTHANKYOUPRONGSFORTHETHRONEMOUNT: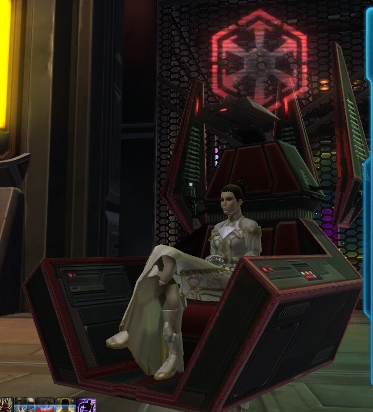 YAY. …the skirt is kind of broken though. but still! yay!
but yes, speeders to go:
Aratech Scythe – 225K at Fleet Vendor or Speeder Vendor on Voss
Aratech Lancer – 175K from Speeder Vendor on Voss
Lhosan Torch – Purchased from Speeder Vendor on Voss for 150K
Lhosan Stinger – 150K from Speeder Vendor on Voss
Ubrikkian Raider – 150K on Voss
Exchange Bandit – Security Vendor for 1.5 million
Paraxon Aero – From Light Sider Vendor on Fleet for 300K
Gurian Shadow – From Blearg at Outlaw's Den for 150K
Gurian Cyclone – From Jo'dath at Outlaw's Den for 175K
Korrealis Prince – From Imperial PVP Vendor on Fleet. Technically, a friend got me one stupid bound-ness. *hopes for a bound remover in the Cartel Shop*
Ubrikkian War-rider – 1,000 Ranked Warzone Commendations and Rank 2200 in Ranked Warzones
Tank Mount – NM EC
Shark Mount – NM EC Timed Run