So, after failing miserably on saving, my boyfriend decided to cheer me up by giving me 500K–400K to get the final bank slot and 100K or the Galactic Party Bomb. I had wanted the Galactic Party Bomb for a while, but didn't have it high on my priority list. I just constantly saw the people in the PVP with their giant board with the flashing lights and thought it'd be cool to have. Only to find out that apparently the Galactic Party Bomb is a completely different item.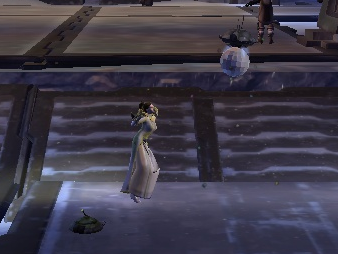 A completely different way more awesome item.
The Galactic Party Bomb can be positioned kind of like Force Quake (Consular AOE) and Salvation (Sage AOE Heal) or like throwing the Hutt Ball. Then, a UFO-like little robot comes out with a disco ball and flashes lights, plays some music, and has pretty lights shining around.
That is pure awesome.
I did find out that the item I thought the Galactic Party Bomb was happens to be called the Party Instigator. It is only 10K and requires Social Level 5, so I stopped by Balmorra (You can buy it on Taris on the Imperial side) and picked it up too.
…Still definitely prefer the Galactic Party Bomb.
Anyway, I have decided that the first Legacy item I will buy is the repair droid for 1 million. Obviously, I will still need to save up as I'll be about 400K short to buy it right away along with Taunta and the emergency 100K for various things.
After that, I will probably save up for the Neutral Market then go for the Mailbox. Then of course, both dummies. After that? Probably the Rocket Boost. Then various cooldowns and last, but not least, the two races I'd like to get. So still lots of preparing to do.
It's too bad I couldn't get the speeders before their prices raised though. At least I got the ones retiring, however.