I've gotten a few mails and comments about this so I'd just like to point out that this is where you can find my Cartel Market trading list. As for getting there without a direct link, you should actually see it when hovering over the Contact Me Page!
The reason I'm bringing this up is I feel bad when people comment or ask about something that either:
A. Was never going to be for trade
or
B. Is no longer available anyway.
I listed everything I received–even stuff I planned to keep so…
Speaking of Cartel stuff, I'm guessing (again, it's a guess! They may not update again for another week or 2, but they did say next week in the Q&A) they will be updating tomorrow. I will admit, as much as I hate the packs and stuff, a little part of me is excited. But I do love opening things, especially during the Holiday season 😀 (Christmas = my favorite holiday!)
And one of my special favoritest (totally a word, shut up) things about December besides snow and Christmas music and the lights and all the other wonderful things about this season because omgyay T~T is the Advent Calendar! I love those things 😀 (and they keep me going to Neopets every year)
I wonder what it'd be like if SWTOR did an Advent Calendar. A quest a day for December! …now I wish they did @-@ Even if it'd be hectic like the World Events!
Wriggles agrees: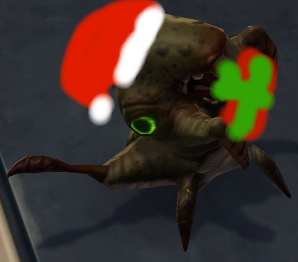 (and yes, I know, no real life holiday stuff…but why can't Life Day have Advent Calendars? :P)
Edit: Darn! Only one new thing…but I guess that mean the rest of it will be next week along with the fireworks.