So, I logged back in this morning (and my sleeping seems to be fixed so yay) and Gargath is still here! Woo 😀 …unfortunately, nobody else is really online yet 🙁 So I'm just following him around right now. I could probably PVP or something while I wait, but since he's up, anyone could take him and I need to keep an eye out.
However, I noticed I had 2 mail notifications. I had one last night and was going to check after defeating Gargath, but…we didn't so that didn't really happen. Thus, I just logged off. So, this morning I decided while watching Gargath, I'd pause real quick and run to the speeder point to check my mail (This is why I want that Mailbox Droid in 1.3 for the record–that notification drives me crazy with curiousity) as I figured they were GTN sales stuff. Well, one was, however the other was from this nice person I helped onto the Sandcrawler last night: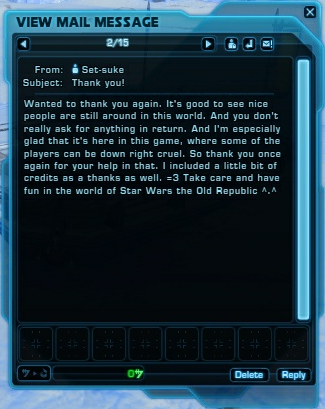 (they sent me 20,000 Credits, for those curious T~T Third time ever)
And it was just such a nice surprise to wake up to. Made me feel a lot better (as I'm more than a little stressed between 1.3 being this upcoming Tuesday and collecting stuff).
I will never really understand when people try to charge others to pull them or help them with something. I mean, if you're busy, just see if you can help later? Why make them pay? Having seen people charge 50K-100K+ just to pull someone or help them with a quest just floors me because it's something so simple.
Part of why I don't mind repeating things when helping someone is because it's usually something I can just quickly run through and help with. While I'm patient (why I can just sit somewhere for hours), I don't like spending a lot of time doing something I've done before. Despite that, I don't mind running through, Force Quaking some stuff, and helping someone out. I've helped two groups do Search and Rescue, I've helped pull people to several datacorns, I answer every question that anyone has about pets or something I know. I just like helping.
And how many times have I been given something as a thank you for these things? 3 times ever. And do I mind? No. Because as long as they say Thank you and I see they're happy, that's something in itself. So, if you're on Corellian Run and you ever need help, just ask me and if I can help out, I'll be there in a heart beat.