GUESS WHO GOT A M0-GUL THRALL DROID? ME. I FINALLY DID! OMG.
IT DROPPED AND I SQUEED AND OMG. And someone rolled against me 😐 only one person (not anyone in our guild, one of the people we brought) but they rolled a 4 AND I ROLLED A 73! And thank god because if I lost, I would've curled into a ball and cried and been depressed forever.
BUT YES. SO SO SO SO SO SO HAPPY.
Unfortunately, screenshots in instances = still buggy, but here is my lovely little Thrall Droid: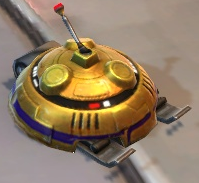 for the record, besides making my whole guild (and the pick-up people) deaf when it dropped (and dancing around like crazy), I also sang a song about asking Karagga to drop the pet for me please and begging him through actions. I don't care how silly it sounds or is, I'm convinced it worked.
Now if we could just figure out the Wonderous/Wondrous Egg aka Orochick :/
And for those who are curious of the words:
Oh Karagga won't you pretty pretty please
drop the little gold droid just for me
I've been here way too many times so can't you see?
It would really mean just so much if it dropped for me.
Soooo, pretty pretty pretty please drop the pet for me
It would really mean so very much to me
I really want to stop this game, oh can't you see?
So pretty pretty pretty please, drop the pet for me?
I really hate killing you and I just want to stop
But all I can do is come and beg until it drops
So please if you can just do this one favor for me?
Just pretty pretty pretty please drop the pet for me.
Pleeeeeeeeeeeeeeeeeeease
Oh pleeeeeeeeeeeeeeeeeeeeeeeeeeeeeease
Just pleeeeeeeeeeeeeeeeeeeeeeeeeeeeeeeeeeeeeeease
Drop
the pet
for meeeeeeeeeeeeeee